Cam Cam Copenhagen
How it all started
Cam Cam Copenhagen is a Danish company, founded in 2012 and run by architect couple Sara Giese Camre and Robert Warren Paulsen.
They started the company a few months after their first daughter was born. After not being able to find items that she liked for the nursery, Sara started making and sewing things herself. Soon her friends started ordering and before she knew it, it had grown to be a fully functional business.
Calm contrast to the modern day life
Sara believes that our surroundings influence us greatly. And in this era, children can so easily be over stimulated with sounds, colours and experiences from a very early age. All those noisy cartoons, television, iPads, iPhones, toys – they can have a long lasting effect for years. Children are profoundly influenced by what they are exposed to, so it is a great responsibility to carefully choose what those influencers are. This is why the Cam Cam family feels that there is great need for calm and harmonious products for children and babies, as a gentle contrast to the modern-day life which is already full of distractions.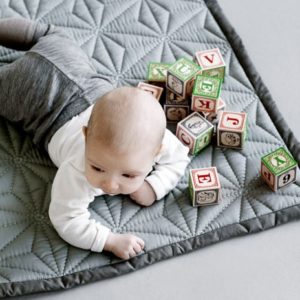 Design inspiration
Cam Cam Copenhagen is driven by the love for children and the belief that we all really need to look after our little ones. With an overall design focus on sustainable and organic production, timeless designs, and high quality materials, they produce items that last generations, match with any ongoing trends and hopefully bring joy to kids and grown ups alike. 
Cam Cam aims to create timeless, poetic design, combining traditions and contemporary and as far as we are concerned, they have definitely done it. 
Cam Cam's promise
We take responsibility for the environment and for our children, which means, taking organic production seriously. We are a both GOTS and OCS certified company and all our textile production is produced in GOTS certified factories. This is crucial for the environment and crucial for our children and their future.
We also take social responsibility seriously, which means ensuring good working conditions for the factories we use, ensuring a proper wage for the workers and ensuring a zero child labour policy.
Adorable things by Cam Cam Copenhagen